Te Ohu Whakaita Charitable Trust is honoured to announce the Matariki Ki Waikato 2022 festival programme for events from Friday 17 June to Sunday 17 July.
Featuring matauranga Maaori, arts, culture, kai, workshops, theatre, music, dance, fashion, tours, talks, concerts, and special Matariki Market days in Raglan, Hamilton and Ngāruawāhia, this year's programme has over 100 events, with many free to attend and catering for everyone – tamariki, rangatahi, pakeke and Kaumaatua!
For the FULL PROGRAMME or more information – www.matarikiwaikato.nz
MARKET
Raglan Creative Market / Matariki Celebrations – Sun 26 June @ 10am – 2pm – FREE ENTRY
An additional creative market to celebrate Matariki will be held over the long weekend, Sunday 26 June, 10am-2pm. We will be collaborating with several other events that the Old School Arts Centre will be running in conjunction with Matariki. The creative market has a variety of stalls that include many amazing creatives from around the Whaingaroa region, and a few stalls further afield. We would like to acknowledge & celebrate kai, music & creativity.
WORKSHOP
Old School Arts Centre Paint a Bowl – Thurs 30 June @ 6pm / Sat 2 July @ 10am
What does Matariki 2022 mean to you? Create a lasting souvenir of this special time. Awesome hands-on fun, no artistic skill necessary for this workshop to be enjoyable and successful! Suitable for everyone aged 12+. $20 bookings essential!
With support from Raglan Naturally and Waikato District Creative Communities NZ
www.raglanartscentre.co.nz Contact info@raglanartscentre.co.nz
FILM
Movies at the Old School / Whetū Mārama: Bright Star – Sat 2 July @ 5pm & 8pm. At Raglan Old School Arts Centre, 5 Stewart St, Raglan.
Special session Sun 17 July @ 4.30pm, presented by director Toby Mills with Q & A after the screening.
This is the story of Hek Busby, and his significance for Māori in rekindling their wayfinding DNA and for all New Zealanders in reclaiming our place as traditional star voyagers.
Reserve at http://raglanmovies.nz
KOHA ENTRY. www.raglanartscentre.co.nz / Contact info@raglanartscentre.co.nz
COMPETITION
Waikato District Libraries Matariki Competition 2022 – Until 5pm Fri 24 June, ONLINE
Ngā mihi o Matariki, te tau hou Māori!
Waikato District Libraries are celebrating Matariki with our annual Matariki Online Competition!
This year we are challenging you to write a Matariki poem, and design a T-shirt that reflects what Matariki means to you.
There are three age divisions for each competition – 0-9, 10-17, and 18+ – so the whole whaanau can join in!
There are loads of amazing prizes up for grabs!
To enter, email your entry and entry form to librarycomp@waidc.govt.nz or pop into the library and we can do that for you.
FREE. Entries close 5pm Fri 24 June. Winners announced Wed 6 July in our Libraries Facebook group.
STREET FESTIVAL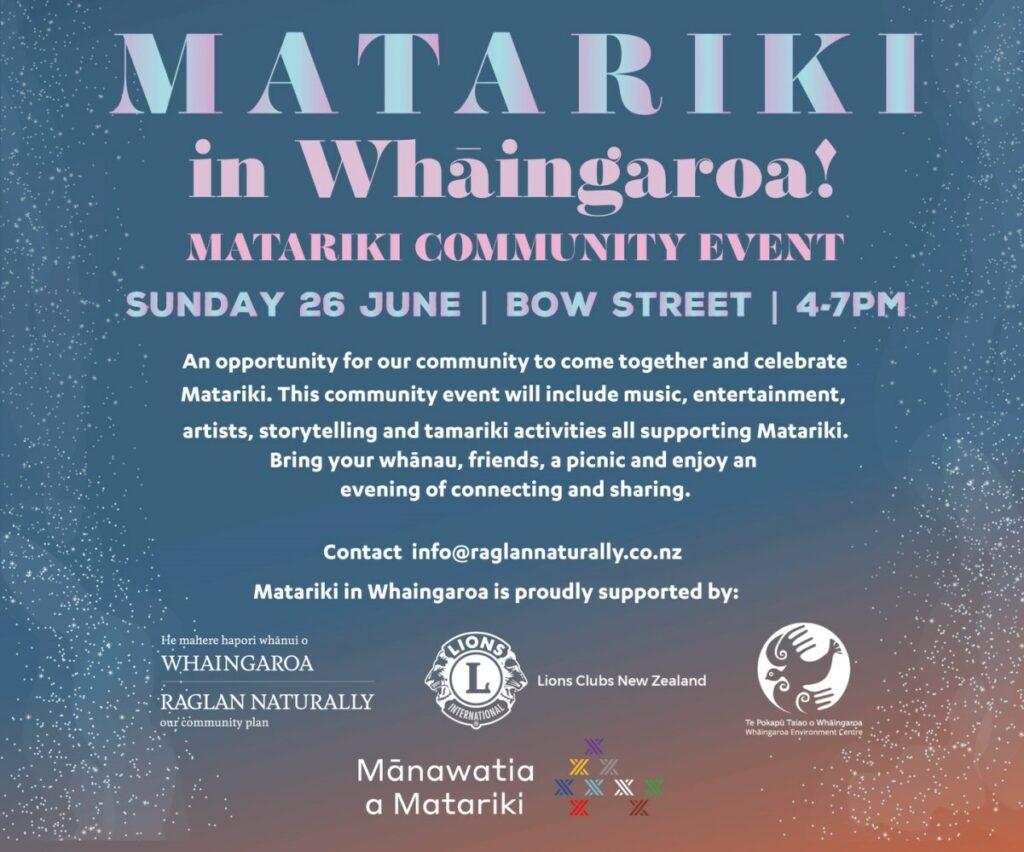 For the FULL PROGRAMME or more information – www.matarikiwaikato.nz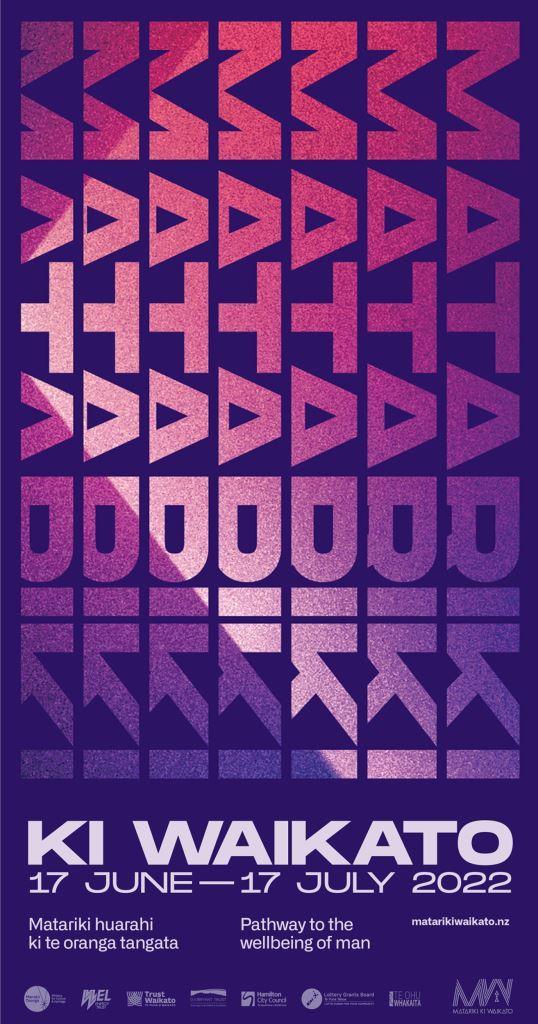 Music features include, L.A.B, Jess B and Masaya at Hamilton's Globox Arena on Saturday 2 July, and Pianika Duncan, kapa haka group Te Pou-o-Mangataawhiri, and 80's band Mercedes, performing at Maanawatia a Matariki on Friday 24 June. Popular family events include, Kite Day on Sunday 26 June, which sees around 1,000 families enjoy making a kite and flying it together at Hamilton Gardens, plus, the hugely popular with rangatahi, open mic event Whiti 2022, on Saturday 2 July at The Meteor Theatre.

The new Matariki Aotearoa Mobile App launched this year with the festival, provides an easy way to find events and create your own curated festival from whatever mobile device you carry. Scan the QR code found on the back of the print programme, or on the website, and download the free App to get started.
Matariki ki Waikato is the first festival in the country to trial the App with the intention to roll it out across Aotearoa in 2023 and expand to include Waitangi Day activities.
A full list of events can be viewed on the Matariki ki Waikato website, on the Matariki Aotearoa Mobile App, and an edited selection of events featured in the festival print programme – available in cafes and downloadable from www.matarikiwaikato.nz
Festival Director Leesa Tilley said "We would like to acknowledge the current government for creating the first national holiday to mark the Maaori New Year, and providing funding to make the mātauranga associated with Matariki accessible for all. The artwork on this year's programme resembles the repeating pattern of a pre-dawn landscape or a cycle of days/nights/years/seasons – the patterns that weave us with our ancestors and community, nature and technology. It has been a pleasure to work in such a dynamic environment with the many passionate and dedicated groups to deliver what we hope to be the best Matariki ki Waikato festival yet!"
Matariki ki Waikato is the only Maaori-led Matariki Festival in Aotearoa and the festival launch with Te Karanga O Te Tau Hou aligns to the birthdate of Kingi Korokii Te Rata Mahuta Taawhiao Pootatau Te Wherowhero, heralded by the Matariki cluster shining directly above Waahi Paa on the 16 June 1906.
"In recent years COVID and lockdown restrictions have emphasised the importance of time with whaanau, strengthening our communities and networks, connecting with our taiao (environment), and what nurtures and sustains us in times of need. This year Te Ohu Whakaita Charitable Trust and our Matariki ki Waikato community groups have pulled together an impressive programme to create opportunities for learning, celebrating, connecting, and recharging. We are grateful to our sponsors and partners who have enabled the growth of our Matariki Ki Waikato Winter Festival. Maanawatia a Matariki!" – Marleina Ruka, Chair Te Ohu Whakaita / Matariki ki Waikato
For the FULL PROGRAMME or more information – www.matarikiwaikato.nz