See also: Raglan Boat Launching Ramps, Manu Bay Fishing & Boating, Wharf Fishing & Boating
Raglan Fishing Limits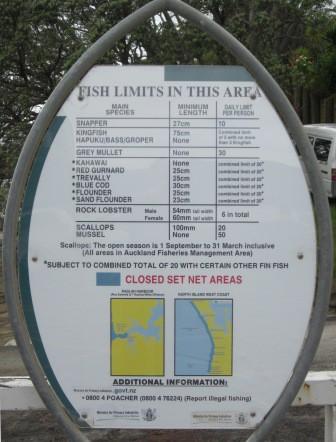 Fisheries information is available from Raglan Maori Wardens.
(Monday to Friday 9.00am to 3.00pm) at 2B Bow St, Raglan. Phone 07 825 8034
 Raglan Harbour Fishing Spots
The chart below shows some hints on fishing spots and likely places for fishing around Raglan Harbour. Near the bar and heads you'll find trevally, kingfish and stingray.  In the harbour you can catch kahawai, grey mullet, parore (black snapper) and snapper. From the wharf and jetty you can catch sprats and on an incoming tide kahawai.  On the tidal estuaries and mudflats there are good numbers of flounder.Off the coast, snapper and gurnard can be found and in the January to March period, albacore along with striped and black marlin.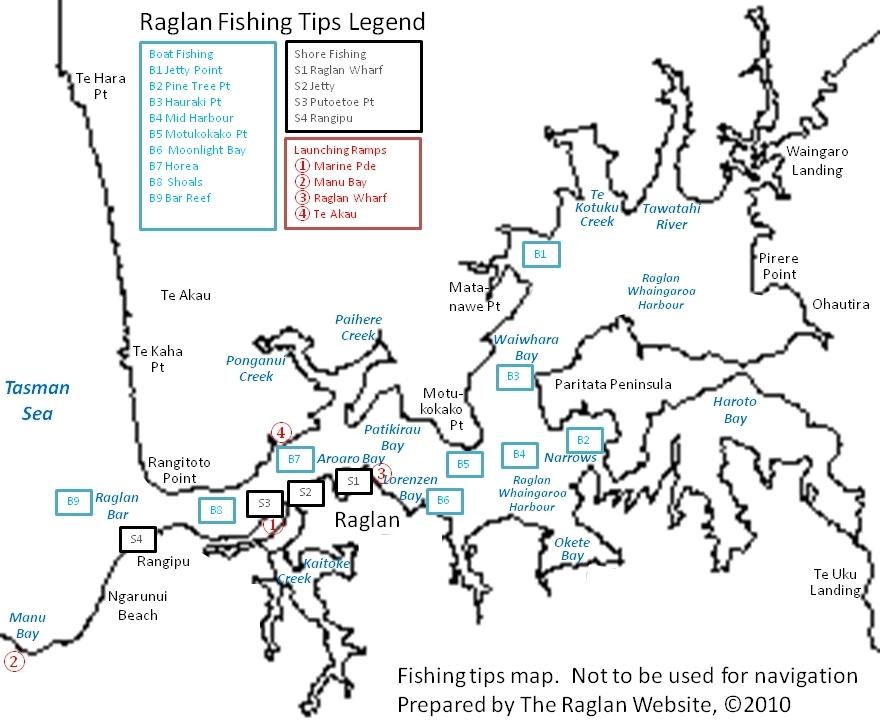 .
---
.
Raglan Sport Fishing Club: Tournaments
Founded in 1999, the Raglan Sport Fishing Club supports the sport fishery off the West Coast of the North Island and provides an avenue for its 750 members to get together. There are three annual tournaments; the Fish City Ice Breaker on the last weekend in November, when the Snapper are prolific, and with a chance at the first Game Fish, the Manu Bay tournament which is run on the Sunday of Anniversary Weekend and the two day Game Tournament, the Rollo's Mixed Classic run in Mid March.
.
---
.
Raglan Fishing Charters and Tours
A number of fishing charter boats operate out of Raglan. Some to consider are:
Islay Mist fishing charters 4-hour to 9-hour options P: 07 849 6879
Sea Thief fishing charters for snapper, gurnard and kingfish. Maximum of 6 people P: 07 825 0535 M: 0274 405 636
Raglan Watersports has kayak fishing tours available. You can arrange these at 5A Bankart Street, Raglan or by contacting them on 
Phone 07 825 0507 Mobile 021 0274 7014 or 0211 341 686. Email admin@raglanwatersports.co.nz Web http://www.raglanwatersports.co.nz/fishing.htm
Bait, Berley and Salt Ice
You can buy bait, berley and salt ice at the Raglan SuperValue in Bow Street and at the BP Service Station on the Main Rd coming into Raglan.
VHF Channels & Local Information
Emergency/Distress VHF Int Ch 16 (Maritime Radio)
Coastguard Radio VHF Ch 02
Ship to Ship VHF Ch 04
Continuous Weather Forecast marine VHF Ch 21 from Raglan transmitter, Int Ch 22, Mobile *500, Landline 09 303 1303
Consult Coast Guard before crossing the Raglan bar and attend a 'bar day' training session..
---
.
Raglan Whaingaroa Harbour Chart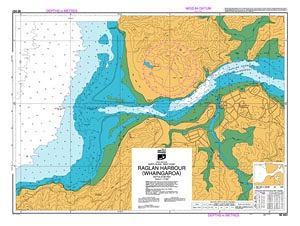 Chart No: NZ 4421
Title: Raglan Harbour
Scale: 1:12500
Published: 10/1978,
New Edition: 7/2001
Data viewed or downloaded from this web site is not equivalent to or a replacement for the Official Charts, Notices to Mariners, Tide Table, Light List and Nautical Almanac as specified in Maritime Rules Part 25 Nautical Charts and Publications (pursuant to Section 36 of the Maritime Transport Act 1994). Sourced from Land Information New Zealand data. Crown Copyright Reserved.
.
---
.
Raglan Whaingaroa Harbourmaster
.
Harbourmaster Mobile 027 677 2107
.
---
.
Waikato Regional Council Map of Raglan Whaingaroa Harbour
Raglan Whaingaroa Harbour
Click on the thumbnail image on the left to view details on a larger version of the map.