Easygoing Raglan, New Zealand is the place to relax, hit the shops, head off for surfing, or enjoying the other Raglan attractions whether its the arts, cycling, heritage, kayaking, scenic tours, boat tours and charters, tennis, walking trails. If you are looking for what to do in Raglan, this is the place you'll find it. Popular things to do in Raglan are listed below. Or you can check our FAQ page or email us a question. For more info about Raglan and other things to do, check out these pages:
Raglan Tourist Information
Raglan i-HUB (sometimes called Raglan Information Centre, i_SITE or the Raglan Tourist Office)
Open seven days and staffed by volunteers.
Opening hours vary : 10am to 3pm.
15 Wainui Road, Raglan – inside Raglan Museum building
Phone 07 825 0556, Email info@raglanihub.nz
Stand Up Paddle (SUP) Boarding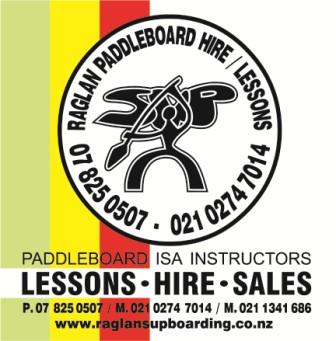 Paddle boarding is one of the world's fastest growing recreational water sports, it is a blend of paddling and surfing and is easy to learn for any age especially in Raglan harbour on the flat water here. It shares a common heritage to surfing and kayaking, but requires far less physical and technical ability, but offers the same enjoyment and fun. Paddle boarding also is a fantastic all over body work out, building your core and upper body muscle strength. All Stand Up paddle boards are supplied with leashes and if required rash vest and or life jackets. Lessons are provided by an ISA qualified coach, Surfing New Zealand approved SUP school.
operating from 7A Main Road, Raglan 3225
07 825 0507 or 021 0274 7014 / 0211 341 686
Team Building Fun
Playgound on SH 23 just East of Te Uku (3216 Main Rd, SH 23) has bush karts, paintball, clay target shooting, BBQ facilities and a cricket oval – all great for team building events. Phone 07 825 5753.Adventure Waikato at Te Akau has flying fox, abseiling, limestone caves, claybird shooting and cave rescue senarios Phone 07 825 4515 Te Akau Adventures is all about water based adventure. Phone 07 825 0224.
Tennis
There is no Raglan Tennis Club. Public tennis courts are located next to the Raglan Rugby Club in Cross St. There is a social tennis club in Te Uku.
Walking
Go for a stroll from the town across the footbridge to Kopua or further afield, you can go for a beach walk, in Wainui Reserve or a walk or tramp on one of the tracks maintained by DOC: Bridal Veil/Wairenga Falls Track, Bryant Memorial Track, Karamu Walkway/ Four Brothers, Karioi Summit Tracks and Te Toto Lower Gorge Track. Download the DOC Raglan walks brochure